"Young love needs dangers and barriers to nourish" – George Sand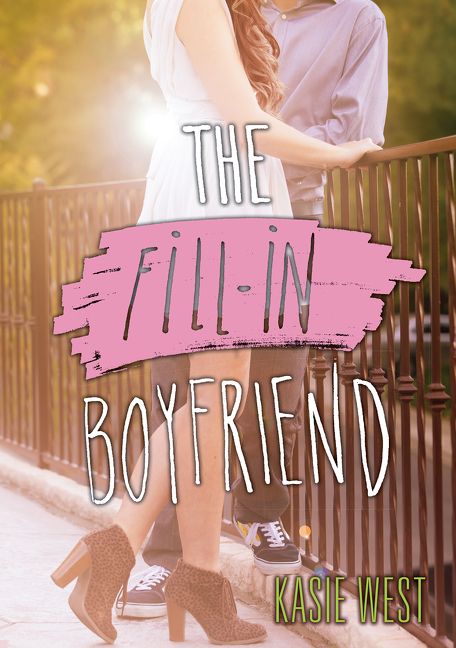 The Fill-in Boyfriend by Kasie West
Plot:
Gia Montgomery is one of the most popular girls in school.
She has everything she could ever want; beauty, brains, wonderful friends, loving parents, and a hot boyfriend from UCLA she can't wait to show off to her friends.
Especially to Jules, a devious frenemy dead set to cut her out of their friend group. 
Gia has been bragging about Bradley for weeks now and finally has the opportunity to introduce him to the group on prom night.
But then the unthinkable happens, Bradley ends up dumping Gia in the parking lot just as their about to head in to the school! 
After the breakup, the only thought making it's way through Gia's mind is how Jules will use the absence of her boyfriend or well-EX boyfriend against her. 
In a bid of desperation, Gia spots a potential date in her school parking lot and manages to coerce him into being  her fake date. 
Fake Bradley is an exceptional actor who successfully dazzles Gia's friends and ends the night with a spectacular and over dramatic break up.  
Gia is beyond intrigued by Fake Bradley and wishes to see him again, and she just might get the chance when she agrees to pose as his girlfriend at a party. 
And so the adventure begins as Gia and Fake Bradley pose as each others pretend dates and end up finding the real thing somewhere along the way. 
Characters: 
The characters were flat. 
There I said it. They barely had unique personalities and I just couldn't fall in love with them. 
You've got the stereotypical popular girl who winds up discovering her secret side.
The alluring drama major who is charming and and strangely insightful.
The edgy and badass little sister who is the polar opposite of her older brother.
The well intentioned but secretly mean spirited popular friends.
And lastly the band of misfits miss popular ends up joining instead.  
See where I'm going with this?
It reads like a textbook example of a YA novel, and the thing is it's rather typical of West to paint her characters in this light especially the lead. 
The protagonist is such a hollow persona that it allows the reader to insert themselves into the story.
Which is all well and good but it doesn't make for an interesting lead. 
All in all, I was disappointed with the cast in this novel but I was not surprised in the slightest. 
Thoughts:
I wasn't expecting a lot from this book, and frankly it saved me the disappointment. 
It's the classic, cliche'd young adult novel you read when you're bored. No real commitment and all the entertainment. 
West's writing is colloquial and easy to follow, you don't have to put much effort into focusing on the book itself. 
The characters are flat and the story is predictable. 
And speaking of the story, it makes no sense.
So Gia's boyfriend dumps her right before they head into the school, okay that was a shitty thing to do sure but the fact that she has to coerce someone into acting like her boyfriend is just plain ridiculous. 
Secondly, what's all this B.S with Jules trying to one up her and steal Gia's friends, they're graduating in a few months, this isn't middle school.
Literally no one cares, they're acing like little children not adults. 
Anyways, the romance was cute and fluffy and full of what you'd expect, again nothing groundbreaking. 
But see, the thing is, with this book or really anything written by West, her books are a good distraction. 
They're quick and easy to read, and not very plot heavy. Which is one of the only things that makes me pick them up. 
While they're predictable and entertaining in their own right, they're the perfect cure to get you out of a reading slump and they're about as cheap as they come. 
So, in my opinion this book is good for when you're in a reading slump or just looking for an easy distraction. 
But if you want a serious read, I suggest you look elsewhere. 
Photo by Alejandra Quiroz on Unsplash